Appliance Repair Services in Centennial, CO

Centennial is a town that's home to over 120,000 happy and hard-working residents. They have busy active lives, and those lives can't be interrupted by a broken down appliance.
At Denver Appliance Repair, we won't settle for just offering the best appliance repair ever. We strive to extend our quality service from the repair aspect of our business all the way to our customer service experience. Whether you're calling for a minor repair, service visit, or maintenance diagnosis, you'll be working with a friendly, highly-trained customer service representative who can match you with one of our expert service technicians. From the moment you pick up the phone, to the moment your problem is solved, you'll be a happy customer. We guarantee it, and we wouldn't have it any other way.
We have a well-deserved reputation as a reliable company, and we want you to join the ranks of our many happy customers. We guarantee your satisfaction in all the work we do, as well as in the customer service you will receive. That's what makes us tops in the area. When you deal with us, you can trust that your appliance will be repaired correctly, and you'll be left with a safe and happy house for your family. We wouldn't have it any other way.
If you're in Centennial and suffering from an appliance issue, call us at
(720) 773-8584
right now to work it out! You won't know how easy it is to fix until you call the professionals at Denver Appliance Repair Service.

Fast Service
One of our professional technicians will show up on time with the right tools, equipment, and knowledge to fix the problem with your appliance quickly.
Original Parts
We use only original parts to perform commercial appliance repairs. High-quality replacement parts help your appliance last longer and keep it running smoothly.
Competitive Pricing
We offer very competitive pricing. If you find a lower price just bring us the written estimate and we'll beat it by 10%. We also offer discounts to seniors and military vets.
Free Service Call
If you decide to proceed with the repair, the service call fee will be credited back towards the cost of your repair. If you decline our estimate and do not move forward with the repair, you are still responsible for the diagnostic fee.
Same-Day Service
We offer same-day appliance repair service at no extra cost. Call us and we will send the tech right away!
Warranty On Parts & Labor
We guarantee the quality of our work with a 30-day labor warranty & 90-day parts warranty.
Professional Service
We have helped hundreds of customers with their appliance fixes for 20 years. We have vast experience and skills to keep your appliances running smoothly.
Polite Customer Service Personnel
Our attentive and friendly staff will help you to schedule a service appointment at the time that fits best for you.
Appliance Repair Services We Offer
We offer Centennial residents all of the appliance repair services they need, no matter the size or type of the problem.
We work on all major brands including but not limited to these brands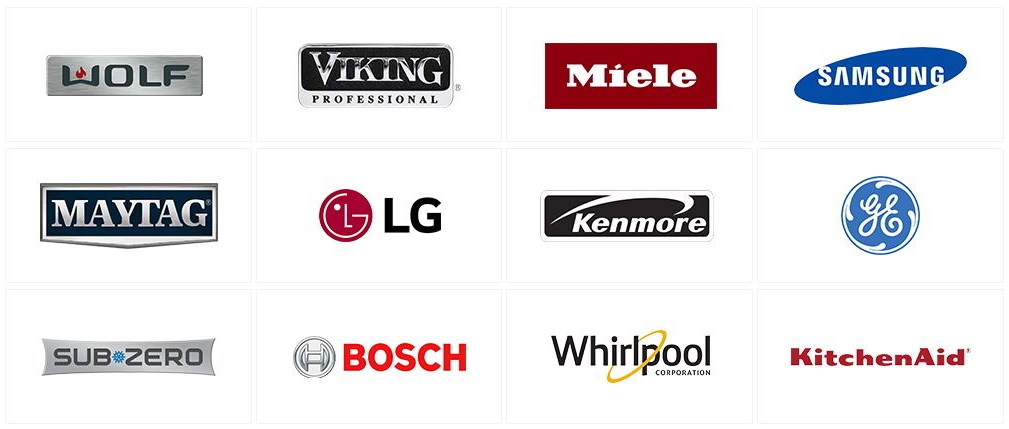 What Our Customers Say About Our Service