Range Repair in Denver
A range, regardless of the fuel type it uses, is the centerpiece of every modern kitchen. There are of course certain deviations from this rule, but it is hard to deny the importance of ranges in our daily life – and especially so if you are a fan of home cooking! There are many different views regarding what a perfect range should be, and it is often your range choice that determines what your kitchen feels and looks like. Gas ranges are popular for their precision and durability, while modern electric ranges have a sleek look that fits nearly any interior kitchen design. Inductions ranges are fairly new in the USA, however, they also start gaining well-deserved popularity among American customers.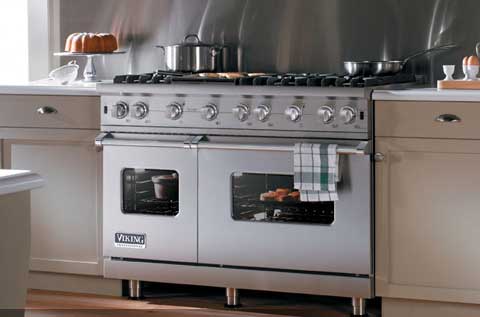 Common Problems with Ranges
Being a complex appliance like this, a range may encounter a wide range of issues. Here are some of the most common symptoms our clients experience with cooking ranges and the main faults, which most often lead to these symptoms.
Gas Ranges
Burner not Lighting Up
It is true that gas ranges often lack complex electronics – the older models might work perfectly fine without any power supply at all! One of the most complex parts of a gas range is the igniter. There are numerous variations, but most of the time the main igniter's functionality is to turn on the gas valve to allow the gas flow into the burner freely and to light it up. However, the igniter issues are often caused by damaged circuitry or other seemingly minor faults.
Range Knob is Broken
While the range knob replacement does not sound like a particularly complicated task, it may be still better to invite professional technician to diagnose the issue properly and replace the broken knob with a manufactory-approved knob assembly. Sometimes the problem can be more complicated than it sounds – for example, if the knob does not seem to turn properly the problem may lie not only in the broken knob or knob shaft, but even in a malfunctioning gas valve!
Electric Ranges
Heating Element Won't Heat Up
In case a particular or several heating elements do not seem to work, but everything else is working fine the problem most likely lies in the faulty heating elements or a broken fuse. In certain cases a damaged main board or even a malfunctioning control panel can cause the fault, so the issue has to be diagnosed properly. This is the reason neither we nor other appliance repair companies wouldn't be able to give you an estimate for the repair until we have a look at your appliance first. Still, it is often either the faulty heating element or a blown up fuse that causes this issue.
Electric Range Won't Turn On
One of the first recommendations we could give to our clients is to have a look at the power outlet. Sometimes, someone may have accidentally unplugged your appliance, or the breaker could have tripped without you noticing it. The rule of thumb in this case is to plug in a smaller appliance in the same outlet, such as a desk lamp, and check if it would work at all. If the outlet is fine, the problem is likely caused either by a blown fuse or damaged circuitry, especially if your appliance has shorted.
Need Your Range Repaired? Give Us a Call!
Is your range acting up? Do you have a problem with one or several burners, with a control panel or the oven? It is time for you to stop bothering about these issues and start eating healthy home-cooked food again! You will never find a better appliance repair company in Denver when it comes to serving or repairing ranges, cooktops, ovens or rangetops! We serve most of range brands, including high-end ones.

We can perform both repair and maintenance check on your appliance, as well as help with installation or de-installation of your appliance. We are confident in the quality of our work and we provide our customers with a 1 month warranty on labor, and our warranty from parts start with 3 month – depend on the warranty terms of the manufactory.

With Denver Appliance Repair Service, you can schedule an appointment even within the same day in case you have an emergency! Moreover, when it comes to ranges, we complete up to 95% of our jobs within the same day! Are you tired of dealing with your broken range? Call us right away!