Appliance Repair in Littleton, CO
Appliance Repair in Littleton, CO
Littleton is known for its beautiful landscapes and friendly people. It's known for exciting features like our very own Littleton Museum and beautiful landmarks like unique and charming Hudson Gardens. It's known for hardworking people who can't afford to slow down their day for a broken appliance. That is why Littleton residents turn to us for appliance repair, and that is why you should do it as well. Our customers are looking for the best repair service for their appliances, and that is what they will get from us. Call us right away to find out how we can help solve your appliance problems!

What We Can Offer?
Your appliances keep your family life going smooth. They help your business run efficiently. You can't afford to put your family or your business into the hands of just any old appliance company. That's why you can turn to us, Denver Appliance Repair Service, for any appliance repair needs in the Littleton area. Your neighbors, coworkers, and friends have come to trust us over the years, and when you have an appliance problem, you can trust as well. Just give us a call at (303) 333-5170 and we guarantee you won't be disappointed with the service you receive!

Our Benefits
We have a well-deserved reputation as a reliable company, and we want you to join the ranks of our many happy customers. We guarantee your satisfaction in all the work we do, as well as in the customer service you will receive. That's what makes us tops in the area. When you deal with us, you can trust that your appliance will be repaired correctly, and you'll be left with a safe and happy house for your family. We wouldn't have it any other way.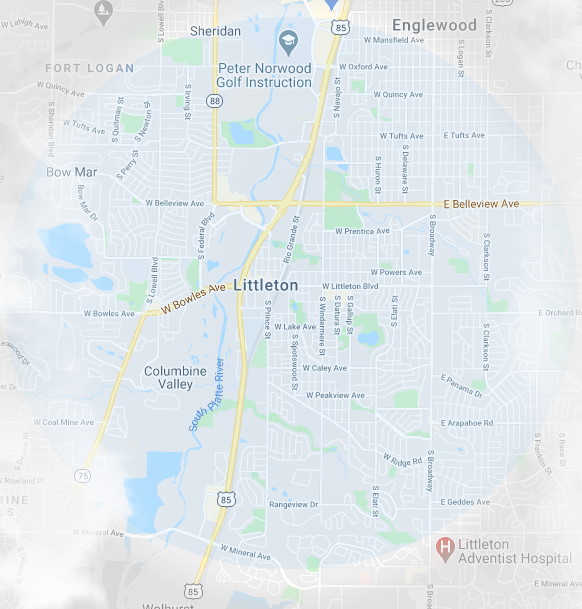 David Schultz

The technician came out to my house the same day I called and had my fridge repaired within the hour. Great service.

Marie Hernandez

The repairman that came to my home was very polite. I had trouble with my dishwasher leaking. The technician had to go and get the parts but he was able to fix my dishwasher later the same day.

Ben Harrison

I've used Denver Appliance three times over the years. I have always had great service at a reasonable price.

Contacts and
Service area
My Maytag dryer stopped working. After a quick research, I found Denver Appliance Repair Service and gave them a call. The scheduling process was the easiest I have ever experienced with a repair service. Alex came the next day and took the entire dryer apart to diagnose the issue. Fortunately, he had the parts needed to make the repair in his van. The repair cost was very reasonable and I was able to pay over the phone with a credit card. I wish I could give them more than 5 stars!

Sylvia Thompson
Littleton, CO

The best appliance repair company I've ever seen. Alex came to our home within a few hours of my call. He quickly fixed the issue with our stove, and then he gave me a few useful tips on how to prolong the lives of our dishwasher and refrigerator. I would highly recommend these guys for all your appliance repair needs.







Denver Appliance Repair Service

5856 South Lowell Boulevard #32
Littleton, CO 80123

(303) 333-5170


Every day 8 AM — 8 PM